Space photos: The most amazing images this week!
4 min read
Researchers have created animal-mimicking robots for future use on Mars, the Hubble Space Telescope viewed the "Fireworks Galaxy" and a lunar orbiter viewed the movement of a rover's travels across the moon's farside. These are some of the top photos this week from Space.com. 
A dimming nebula
The Stingray nebula is the youngest known planetary nebula in our sky. NASA's Hubble Space Telescope captured photos of the Stingray nebula in 1996 and 2016, showing a dramatic difference in the nebula's brightness and shape over 20 years. Researchers estimate that the structure will barely be detectable in 20 or 30 years if it continues to fade at this rate.
Full story: The Stingray nebula is fading fast, Hubble telescope photos reveal
Valles Marineris
This image taken by the HiRISE (High Resolution Imaging Science Experiment) instrument on NASA's Mars Reconnaissance Orbiter shows a close-up view of the largest canyon in the solar system, Mars' Valles Marineris. The canyon is nearly 10 times as long as Earth's Grand Canyon and three times deeper. 
Full story: Largest canyon in the solar system revealed in stunning new images
Birds-eye view of a lunar farside mission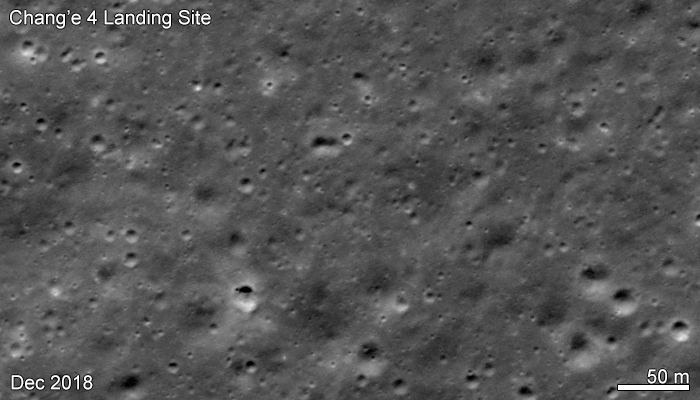 This animated image shows the Yutu 2 rover from China's Chang'e 4 mission as it moves over the farside of the moon. Yutu 2 is indicated by a white arrow. The bird's-eye view of this mission comes from NASA's Lunar Reconnaissance Orbiter. This set of images start from just before the landing of Chang'e 4 in January 2019 and run up until recent lunar days.
Full story: NASA spacecraft reveals travels of China's Yutu 2 rover on far side of the moon
Almahata Sitta under a microscope
This false-color microscope image shows a sample of meteorite Almahata Sitta, collected from Sudan in 2008.  The high presence of the mineral amphibole, highlighted in orange here, suggests that the meteorite broke off a parent asteroid that has never left meteorites on Earth before. Amphibole has only appeared once before in a meteorite, called Allende, which fell in Chihuahua, Mexico, in 1969. 
Full story: Mysterious asteroid the size of a dwarf planet is lurking in our solar system
Ohio facility renamed after Neil Armstrong
Legislation passed in December 2020 gave a new name to a facility in Sandusky, Ohio where NASA lunar spacecraft is tested. The formal name of the Plum Brook Station will be the NASA John H. Glenn Research Center at the Neil A. Armstrong Test Facility. This is now the second NASA location bearing Armstrong's name; the space agency also honored the first person to walk on the moon by adding his name to its operations and checkout building at Kennedy Space Center in Florida.
Full story: NASA Plum Brook test facility renamed for astronaut Neil Armstrong
Mars Dog
In a Dec. 14 presentation at the annual meeting of the American Geophysical Union (AGU), researchers with NASA/JPL-Caltech introduced their "Mars Dogs," like the one pictured here in yellow. these AI robots can potentially maneuver on Mars in ways that rovers currently cannot. A Mars Dog would also be roughly 12 times lighter than current rovers and would be capable of traveling much faster.
Full story: Meet Au-Spot, the AI robot dog that's training to explore caves on Mars
Galactic fireworks
The galaxy NGC 6946, nicknamed "the Fireworks Galaxy," can be seen in this stunning image from the NASA/ESA Hubble Space Telescope. The galaxy got its explosive nickname because, while our Milky Way galaxy has an average of just 1-2 supernovas per century, NGC 6946 has had 10 in the last century. 
"The Fireworks Galaxy," the structure of which is somewhere between a full spiral and a barred spiral, can be found 25.2 million light-years from Earth on the border of the constellations Cepheus and Cygnus. — Chelsea Gohd
Reflecting on the sun 
What might look like an artistic mosaic from afar is actually 366 images of the sun throughout the year 2020, taken by the European Space Agency's Proba-2 satellite. Proba-2 continuously monitors the Sun and, in this collection of photos, there is one image selected for each day (the "extra" day is from February 29, 2020 which was leap day). These images, which were taken by Proba-2's SWAP camera (which captures ultraviolet wavelengths to show the Sun's extreme atmosphere), have a number of "easter eggs" including partial solar eclipses visible on June 21 and December 14. — Chelsea Gohd
Space radishes
This up-close photo shows a radish grown to perfection. These radishes serve as a control crop for the radishes currently being grown as part of the Plant Habitat-02 (PH-02) experiment in the microgravity environment onboard the International Space Station. This crop of radishes was grown in the Advanced Plant Habitat inside the Space Station Processing Facility at NASA's Kennedy Space Center in Florida. — Chelsea Gohd
A new year in space
The astronauts currently living and working on the International Space Station posed for a festive photo to ring in the new year as 2020 became 2021. NASA astronaut Victor Glover shared the photo on Twitter with the caption "God bless you and this new year! I pray for renewed strength, compassion, and truth and that we can all be surrounded by family and friends…" Glover flew to the space station as part of SpaceX's Crew-1 mission, the company's first fully operational crewed mission to space. — Chelsea Gohd
Join our Space Forums to keep talking space on the latest missions, night sky and more! And if you have a news tip, correction or comment, let us know at: community@space.com.