Watch live! National Space Council to discuss NASA Artemis moon program today
5 min read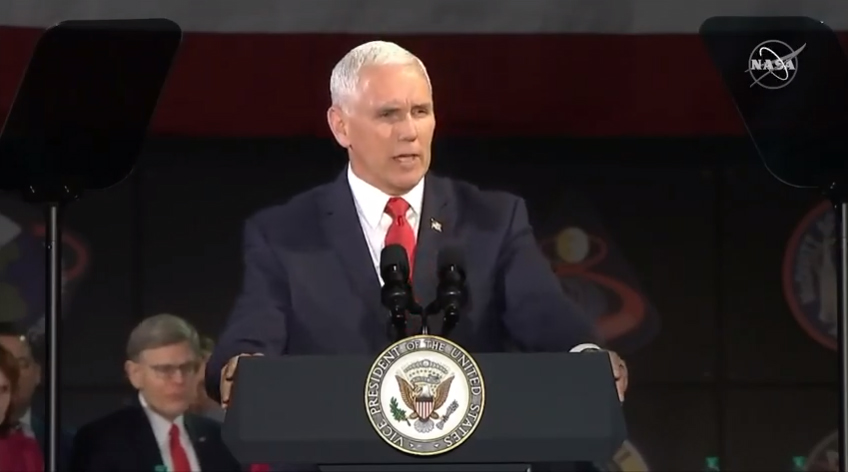 Vice President Mike Pence will lead his final meeting of the National Space Council today (Dec. 9) and may announce the group of astronauts for NASA's Artemis moon program. Here's how to watch it live. 
NASA will broadcast the National Space Council meeting at 12:30 p.m. EST (1730 GMT) from the Kennedy Space Center in Cape Canaveral, Florida. It is the eighth meeting of the National Space Council during the Trump administration since it was revived in 2017.
According to Ars Technica, Pence is expected to announce a list of astronauts NASA will launch to the moon under its Artemis program. 
From the Office of the Vice President
On Wednesday, December 9th, Vice President Mike Pence will travel to Cape Canaveral Air Force Station, Florida. There, Vice President Pence will visit with space professionals of the 45th Space Wing. Following, the Vice President will chair the Eighth Meeting of the National Space Council at the Kennedy Space Center. 
The Vice President will deliver remarks on NASA's Artemis program and the historic space accomplishments of the Trump Administration. President Trump and Vice President Pence's leadership has revitalized America's space enterprise and ensured the strength of the American space program for years to come. Later that evening, the Vice President will return to Washington, D.C. 
SpaceX Starship SN8 launch test
Editor's note: SpaceX's Starship SN8 experienced a Raptor engine abort in the last second before an attempted launch at 5:30 p.m. EST (2030 GMT).
---
SpaceX will attempt to launch its first high-altitude Starship test flight Tuesday (Dec. 8) and you can watch it live here, courtesy of the private spaceflight company. The launch webcast was expected to begin at 5:30 p.m. EST (4:30 p.m. CST/2030 GMT), though SpaceX reports it is performing final preflight checks.
The Starship SN8 prototype is expected to launch to an altitude of about 8 miles (12.5 kilometers) during the upcoming test at SpaceX's Boca Chica test site in southern Texas. Tuesday is a no-earlier date for the launch try, and the schedule may change, SpaceX officials have said.
"The schedule is dynamic and likely to change, as is the case with all development testing," the company said.
You can see more live views of SpaceX's Starship SN8 on its launch pad from NASA Spaceflight and Spadre.com below:https://www.youtube.com/watch?v=OLpN8Cco3mU
As early as Tuesday, December 8, the SpaceX team will make the first attempt of a high-altitude suborbital flight test of Starship serial number 8 (SN8) from our site in Cameron County, Texas. The schedule is dynamic and likely to change, as is the case with all development testing.
This suborbital flight is designed to test a number of objectives, from how the vehicle's three Raptor engines perform to the overall aerodynamic entry capabilities of the vehicle (including its body flaps) to how the vehicle manages propellant transition. SN8 will also attempt to perform a landing flip maneuver, which would be a first for a vehicle of this size.
With a test such as this, success is not measured by completion of specific objectives but rather how much we can learn, which will inform and improve the probability of success in the future as SpaceX rapidly advances development of Starship.
This past year alone, SpaceX has completed two low-altitude flight tests with Starship SN5 and SN6 and accumulated over 16,000 seconds of run time during 330 ground engine starts, including multiple Starship static fires and four flight tests of the reusable methalox full-flow staged combustion Raptor engine. Additionally, with production accelerating and fidelity increasing, SpaceX has built 10 Starship prototypes. SN9 is almost ready to move to the pad, which now has two active stands for rapid development testing.
SN8's flight test is an exciting next step in the development of a fully reusable transportation system capable of carrying both crew and cargo to Earth orbit, the Moon, Mars, and beyond. As we venture into new territory, we continue to appreciate all of the support and encouragement we have received.
There will be a live feed of the flight test available here that will start a few minutes prior to liftoff. Given the uncertainty of the schedule, stay tuned to our social media channels for updates as we move toward our first high-altitude flight test of Starship!
Watch the flight test here.
Thursday: ULA Delta IV Heavy launching NROL-44 spy satellite
A United Launch Alliance Delta IV Heavy rocket will launch a classified spy satellite for the U.S. National Reconnaissance Office Thursday (Dec. 10) at 6:15 p.m. EST (2315 GMT). 
The mission, titled NROL-44, will lift off from Cape Canaveral Air Force Station in Florida. It has been delayed since late September. 
Rocket: Delta IV Heavy
Mission: NROL-44 Launch
Date: Sun., Sept. 27, 2020
Launch Time: 12:10 a.m. EDT
Launch Location: Space Launch Complex-37, Cape Canaveral Air Force Station, Florida
Mission Information: A United Launch Alliance (ULA) Delta IV Heavy rocket will launch the NROL-44 mission for the National Reconnaissance Office (NRO). Liftoff will occur from Space Launch Complex-37 at Cape Canaveral Air Force Station, Florida.
Launch Notes: This will be 141st mission for United Launch Alliance and our 29th for the NRO. It is the 385th Delta launch since 1960, the 12th Delta IV Heavy and the 8th Heavy for the NRO.
Launch Updates: To keep up to speed with updates to the launch countdown, dial the ULA launch hotline at 1-877-852-4321 or join the conversation at www.facebook.com/ulalaunch, twitter.com/ulalaunch and instagram.com/ulalaunch; hashtags #DeltaIVHeavy #NROL44
'ISS Live!' Tune in to the space station
Find out what the astronauts and cosmonauts aboard the International Space Station are up to by tuning in to the "ISS Live" broadcast. Hear conversations between the crew and mission controllers on Earth and watch them work inside the U.S. segment of the orbiting laboratory. When the crew is off duty, you can enjoy live views of Earth from Space. You can watch and listen in the window below, courtesy of NASA.
"Live video from the International Space Station includes internal views when the crew is on-duty and Earth views at other times. The video is accompanied by audio of conversations between the crew and Mission Control. This video is only available when the space station is in contact with the ground. During 'loss of signal' periods, viewers will see a blue screen.
"Since the station orbits the Earth once every 90 minutes, it experiences a sunrise or a sunset about every 45 minutes. When the station is in darkness, external camera video may appear black, but can sometimes provide spectacular views of lightning or city lights below." 
Follow us on Twitter @Spacedotcom and on Facebook.